About Us & This Site
Back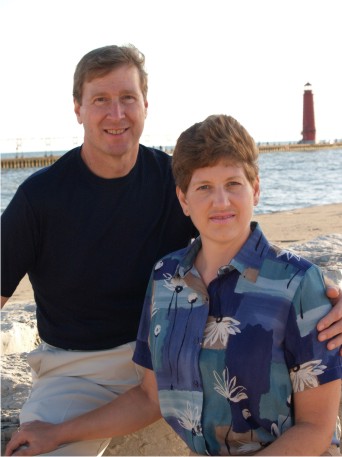 Statement of Faith:
We are members of a Baptist church and our beliefs are the same as most evangelical Christians. Click here to read our doctrinal statement.
Please pray for this website. Click here for a prayer card
BibleHelp.org originally started as a personal ministry of Michael and Janet Bronson (both lay-Christians). It has, however, taken on a life of its own. It has about 28,000 new visitors a month from over 130 countries. About 200,000 chapters are accessed a month. Go to the Comments page to see what some of the visitors have said.
Mike works as a Correction Officer in a prison that was once known as the "Largest Walled Prison in the World." He has Associate Degrees in Science and in Computer Electronics (EET).
Mike designed several computer projects for the Department of Corrections and, as a result, was asked to work on loan in the Deputy Director's office. While in the Deputy Director's office, he worked to improve security within the prison system through the use of computers.
A couple projects he designed are Statistical Analysis of Assaults (SSA) and Prisoner Visit Registration (PVR). With SSA, data on all assaults are fed into the computer and analyzed. Graphs are printed showing assaults by time, location, weapons used, etc. The assaults at each prison are compared with the assaults of the other 50 prisons. The program is even able to compensate for various security levels and prison populations. As a result, many "hot spots" were identified and rectified. Assaults have been greatly reduced.
With PVR, all people visiting prisoners must register on a statewide computer system. Not only has this system eliminated an antiquated paper registration system, it has greatly increased prison security. I won't go into the details, but we have substantially reduced a large variety of security problems with this system.
Janet is a high school chemistry teacher. She has a BS from Liberty University and a Masters degree from MSU. Like Mike, Janet is very computer-literate and is skilled in programming and computer repair. She has worked hard getting computerized lab stations for her students and multimedia tools for her teaching.
Janet has a passion for sewing and has a Pfaff 2140 embroidery sewing machine. She enjoys making clothing from scratch and has developed a ministry of making special clothing for newborn babies, etc. Being able to embroider professional designs on the finished product tops off a beautiful garment.
Mike and Janet share many common interests. They both were lifeguards when they were in school and enjoy construction work. They are both skilled in carpentry, electrical wiring, plumbing, roofing, and some cement work. They use their construction skills to help their neighbors and other people who are in need.
Mike and Janet host many family and church parties at their home. Their two acres of land and 5-stall garage are ideal for large crowds. Kids love playing foosball, air hockey, and racquetball (the court is built in the garage). Their fountain (which pumps 7,000 gallons an hour) is, of course, a gigantic kid-magnet. Occasionally, an unsuspecting adult is also "attracted" to the cool inviting water.
"Food fights" are a big hit with everyone. Mike and Janet buy two grocery carts full of day-old bread (for $7) and have 20 minutes of total mayhem. When it's finished, bread is everywhere. Apart from the plastic bags, there is no cleanup. The birds, squirrels, and deer eat it all within a few days.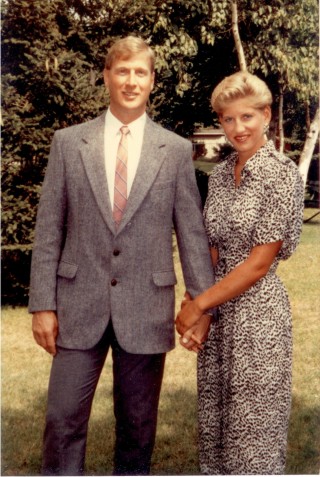 Mike and janet while they were dating
Interesting Side Notes about Their Engagement
The first "I love you." The first time Mike told Janet he loved her was in a fortune cookie at a Chinese restaurant. Mike inserted the note in a fortune cookie and made arrangements with the manager to have delivered it at the end of the meal. Janet was pleasantly surprised by her good "fortune." This special event almost didn't work. The waitress apparently forgot about the special cookies and brought the wrong ones. Fortunately, the manager realized what happened and corrected the problem.
Asking permission for Janet's hand. Mike asked Janet's father for permission to marry his daughter. After he was given permission, Mike gave him 10 ceramic cows. The chapter Johnny Lingo's Eight Cow Wife explains the significance of this gift.
The proposal. Mike and Janet were eating a meal at a fancy restaurant when Janet noticed some gold writing on her plate. As she cleared the plate with her fork, she saw the words, "Janet, will you marry me?" (Mike had the plates custom made a couple weeks earlier.) As a side note, Janet almost missed this proposal. She lived two hours away and she almost canceled her visit because of a major snowstorm.
Her engagement ring. Since Mike loves chocolate, he asked Janet if she would make some brownies. When she broke open one of the eggs, out came her engagement ring. It took Mike 10 hours of experimenting to figure out a way to successfully get the ring inside the egg. Needless to say, Janet was a bit surprised.
Listed below are many pictures of Janet and myself.
Click on the picture to see the full size.
Mike and Janet

Mike

Janet

Mike "hard at work"

Mike in Jungle camp

(Mike is on the right)

Mike in the honor guards

Jan in her sewing room

Sample of Jan's embroidery

Water balloon fight

Our fountain

Our 5 stall garage

Our racquetball court

Our kitchen we built over Christmas break

Horseback riding in Alaska

Walking on glaciers

The prison where Mike works

Our Pets

Breaking up our driveway
Other Chapters in this Section

Introduction
Please Report any Errors You might Find
Table of Contents
Dedication
Heart Beat
Special Thanks
The International Outreach of BibleHelp
Comments From our Visitors
About BibleHelp.org
Please Pray for this Website
How This Website is Supported
Meet the Author
Statement of Faith
Copyright Notice



Tell a Friend about this page